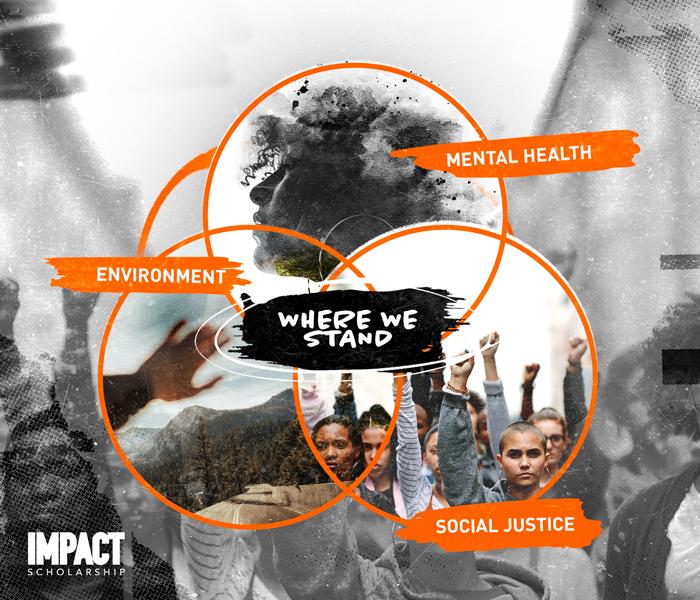 Tobacco and vaping pose a serious threat to social justice, mental health, and the environment.
Advocating for change is no small feat, and we want to recognize and reward those putting in the work and making an impact in their communities.
So we're giving away five scholarships – $3,000 each – to five people with a passion for the issues facing our generation.
Whether you're interested in tobacco and vaping prevention or connected to any (or all) of the issues we mentioned, we want to hear your story:
What inspires you most?
Why are you passionate about social justice, mental health, the environment,  and/or tobacco and vaping?
What action(s) have you taken to bring about change in your community?
The 2021 Impact Scholarship application is currently closed.
This scholarship is open to anyone 18+ attending a higher education institution and/or trade school starting in the fall of 2021. Click here for full terms and conditions. 
Take a look at the questions below and when you're ready you can start your application.
Tell us about why you're passionate about 1 or all 3 of the truth Impact statements (social justice, public & mental health, and the environment)?  
Tell us what you have done, are doing, or want to do to make an impact on these issues. 

Example: If you're super passionate about mental health in the LGBTQ+ community tell us about it.   

Tell us something that you're passionate about.

Explain why it's important to you and what you've done or are doing to share this passion with others. This is your chance to elaborate on what motivates you and how you might connect with our Impact statements.  

Explain how this scholarship will affect your future or help you overcome any adversity or challenges you've faced or are facing in life.   
Your Story: The video upload section
We want to hear your story. Here's where you can keep it real and tell us why you deserve this scholarship. Keep the video under 3 minutes. Upload it to a video hosting site like Vimeo or Youtube and paste the URL in the application. This is the most important part of the application. 
We want you to tell a story -- your story. Use the questions below as inspiration, but we don't want you to just answer the questions. Get creative with it and really tell your story and show us who you are. 
Here's what you should cover in your video: 
Who you are and where you're from. 
What makes you you? Tell us about the interests and  hobbies that make you unique. 
Which belief statement (Social Justice, The Environment, Mental Health), or larger issue in society, are you most passionate about and why? 
What will you do, or are you doing, to make an impact on those issues? 
If you have one, tell us about your personal connection to tobacco, smoking, vaping, or the opioid epidemic. This isn't required, but if you have a story, we'd love to hear it.
Describe a situation when you faced an obstacle or adversity in your life and how you overcame it.
Tell us your biggest ambition/goal in life. Where do you see this scholarship, and education, taking you?
START YOUR APPLICATION HERE >>>>>>