Want Support Quitting Vaping? Join This is Quitting
Starting your Quitting Journey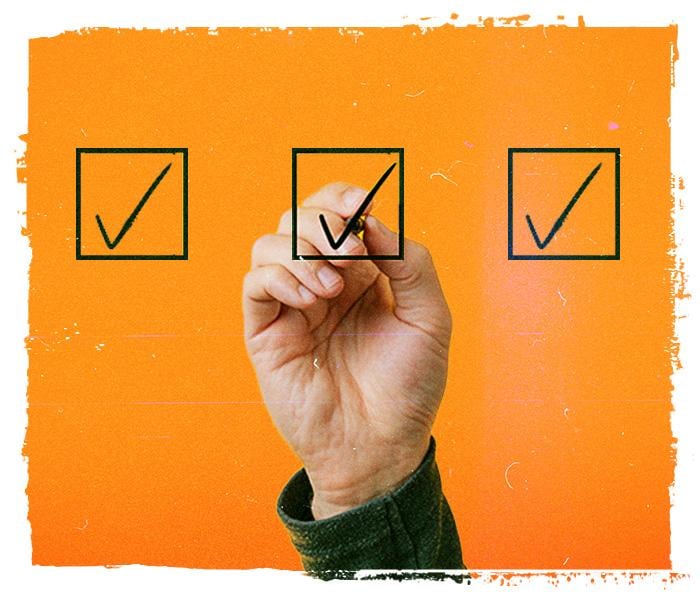 Think about why you want to quit.
Are you trying to be healthier? To save money? Make a list of all the reasons you're ready to quit vaping and keep it somewhere you'll see it everyday. When you're tempted to vape, pull your list out and remind yourself why you want to quit. This will help you stay motivated and focused on your goal.
Here are a few other thing to do when planning to quit:
Learn about quitting methods and learn what works best for you
Read about what worked for others
Write down your thoughts in a journal
Research coping methods (more on this below)
Remember: Everyone's quitting journey is different. Figure out a quitting plan that works best for you.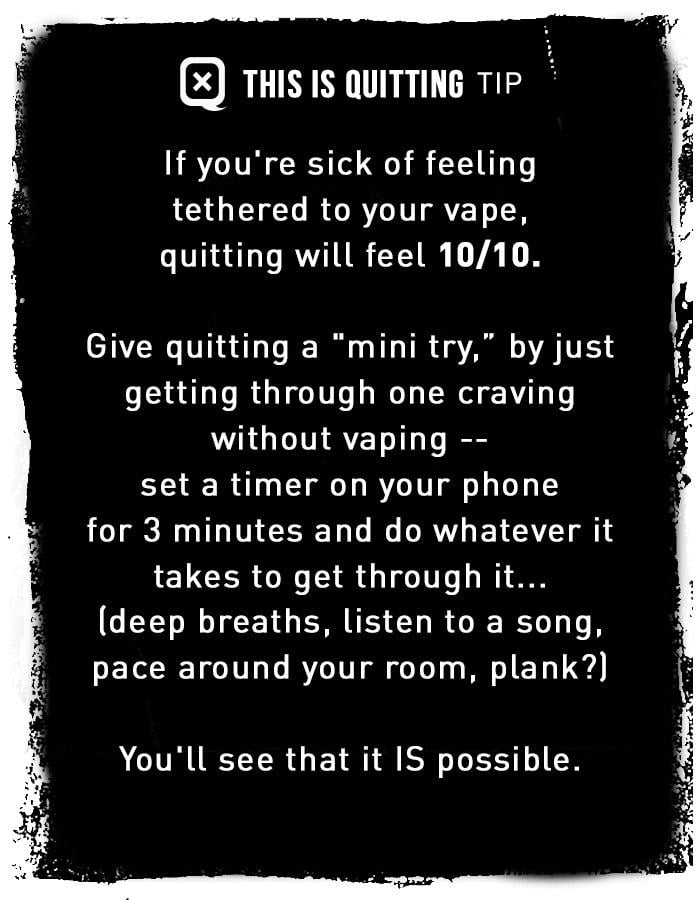 Picking a specific date you want to stop vaping. This can help you commit to and stick to your quit. 
But if you're not ready to set a date, take a beat and prepare a quitting plan. 
Tip: There's no perfect time to quit—there will always be stresses and anxieties that make quitting tougher—but try to avoid setting your quit date for especially stressful times, like the day before a big exam or job interview. It's all about setting yourself up for success.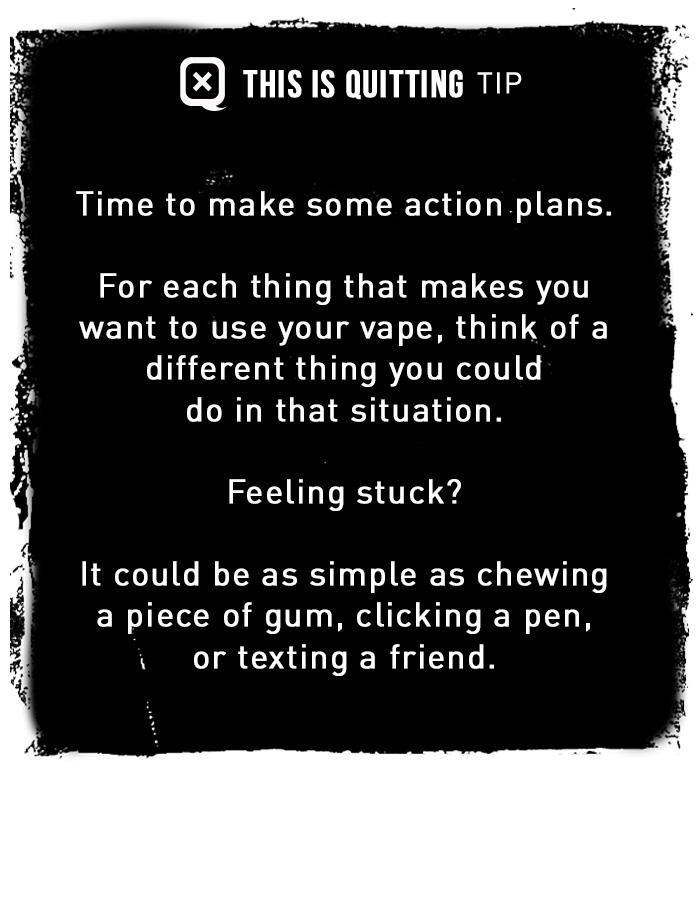 Identify quitting tools and strategies to help you quit.
Reach out for help.
 It can be tough to open up and involve other people in your quitting journey, but talking openly and honestly with those who care about you and want you to succeed can make a huge difference. Not only can others help keep you accountable and motivated, they can support you through tough days, cravings, and slip ups. 
Join a Quit Vaping Program
Our free, anonymous, text messaging program, This Is Quitting, is specifically designed to help you quit vaping. We've helped over 600,000 youth and young adults on their journey to quit vaping. Learn more about quitting with TIQ (link to TIQ info page).
Take a breath.
Breathwrk, the #1 breathwork app, offers science-backed breathing and meditation exercises designed to help you strengthen your lungs, relieve anxiety, and cope with triggers and cravings that arise as you try to quit vaping. Learn more.
Talk to a therapist.
Taking care of your mental health is crucial, especially as you navigate your quitting journey. There are a ton of flexible, affordable options available, including virtual, phone, and text therapy. Consider checking out services like Happify  or Talkspace if you're looking for a little extra support as you quit vaping.
Consider trashing your vape.
But only when you're ready. Quitting cold turkey isn't for everyone. If you want to hold on to your vape to slowly wean yourself off of it, go for it. It's all about going at your own pace and doing what will help you be the most successful.
Set boundaries.
Being aware of your triggers and setting firm boundaries can help keep you from slipping. You can tell people about these boundaries, but remember: ultimately, it's your quitting journey, and it's your job to protect it. For example, if being around people vaping is a trigger, it's up to you to remove yourself from the situation. It may be awkward or uncomfortable at times, but if you're determined to quit, setting—and enforcing—boundaries is essential.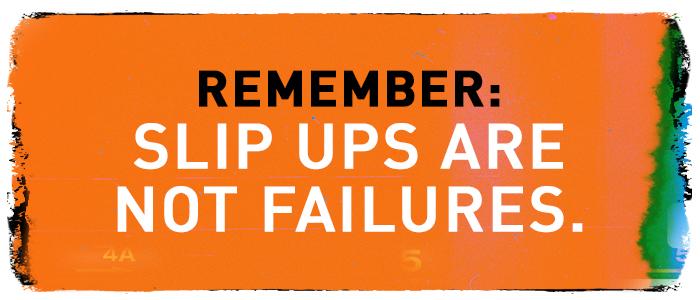 Learn to cope with triggers and cravings
One of the biggest challenges to quitting: coping with triggers and cravings from nicotine withdrawal. What is a trigger? It could be friends, a certain time of day, a place, a feeling, or anything that gives you the urge to vape. Knowing your triggers is key to overcoming your nicotine addiction and quitting vaping.
How to avoid triggers and cravings:
Distract yourself. 

Staying busy and keeping your mind occupied are great ways to keep triggers at bay. 

Practice mindfulness and meditation

Try a deep breathing exercise

Keep your mouth busy – with candy, gum, toothpicks, mints – to distract from cravings

Spend some time in nature
Stay healthy.
Get plenty of rest, eat balanced meals, and take time out of your day to exercise.
Keep track of your quitting journey (journal or try a quitting program or app)
Ask for help. 
Check out our mental health resources page for important facts, helpful hotlines, and tools and strategies for relieving stress and anxiety while quitting vaping.
REMEMBER: Slip ups are not failures.
Don't beat yourself up and risk ruining your progress over a small hiccup. If a slip up happens, pick yourself up, dust yourself off, and keep pushing forward. Think about your "why" and remind yourself to keep going.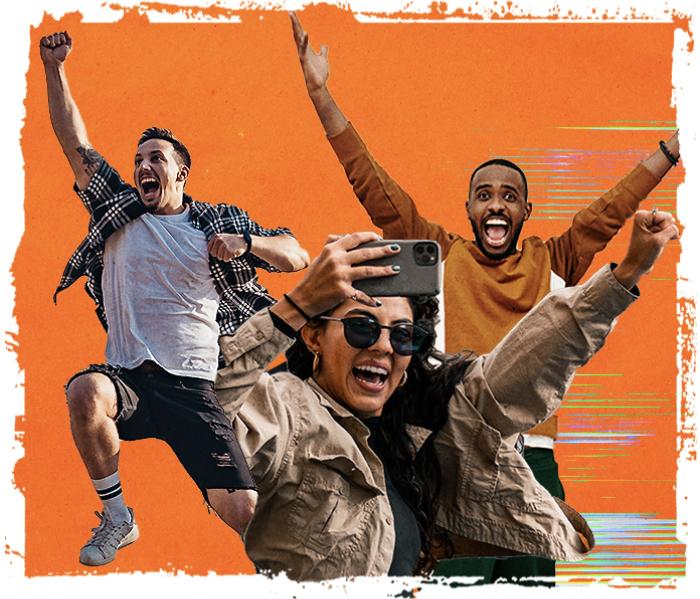 Celebrate your accomplishments
Even making it through your first few hours is a big accomplishment. Experts say that recognizing and celebrating accomplishments when you're quitting can boost resistance to stress and cravings.
"Find ways to have fun during the initial struggle," - Mirabella advises.  
McCall Mirabella, a real life quitter, recommends using a phone app to track streaks of nicotine-free days, the amount of money saved, hitting milestones, and setting up rewards.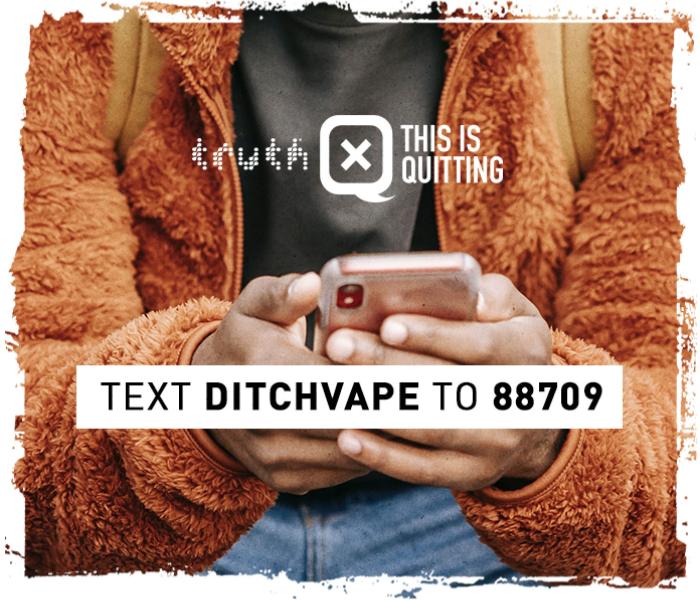 Quit vaping with This Is Quitting
Quitting vaping can feel like an isolating experience at times, but you don't have to go through it alone. This Is Quitting is a free text-based program that offers on-demand support to help you quit vaping. Text DITCHVAPE to 88709 now for:
24/7 support. This Is Quitting is there whenever you need help with stress, slips, or cravings — no matter the time of day. Text us with a keyword like COPE, STRESS, SLIP or MORE, and we'll respond with instant tips, advice, and quitting support.
Anonymous, confidential help. Your quitting journey stays between you and TIQ.
Advice from real people. You'll receive tips and motivation from This Is Quitting's built-in support system of successful quitters.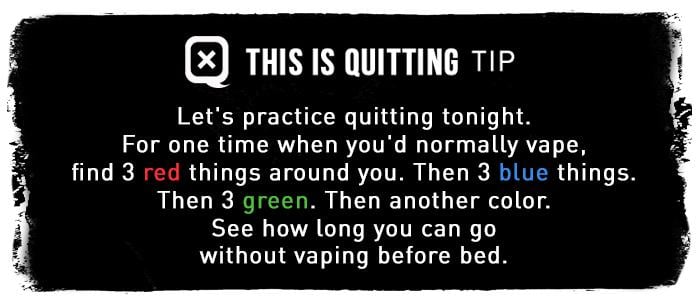 Once you sign up, you'll have the option to set a quit date. If you're not ready for that quite yet, no worries. We can still send you tips and suggestions as you build up your confidence to quit.
This Is Quitting has already helped hundreds of thousands of young people who are quitting vaping, and we can help you too.