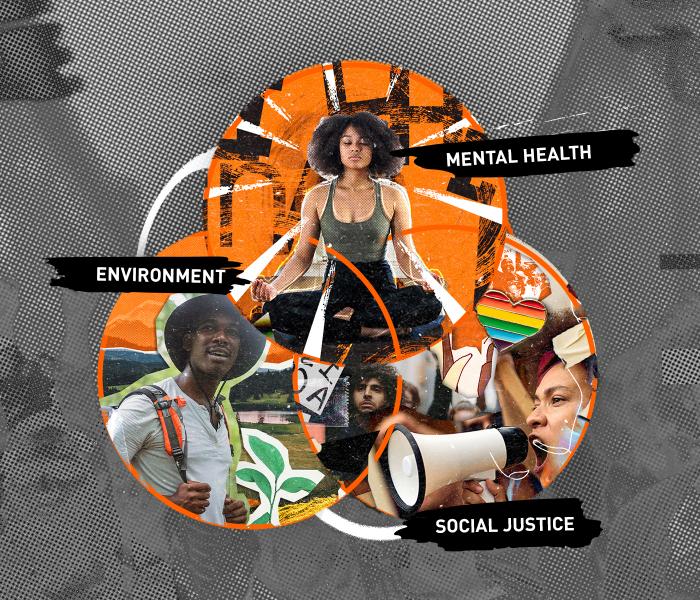 Tobacco and vaping pose a serious threat to social justice, mental health, and the environment.
Advocating for change is no small feat, and we want to recognize and reward those putting in the work and making an impact in their communities.
The Impact Scholarship is for people who are passionate about the issues facing our generation. If you are passionate about the environment, social justice, and/or mental health, add your voice to any of our current campaigns to amplify your impact and stay up-to-date with all things activism-related. 
Whether you're interested in tobacco and vaping prevention and the connection to any (or all) of the issues we mentioned, we want to hear your story:
What inspires you most?
Why are you passionate about social justice, mental health, the environment,  and their intersectionality with tobacco and/or vaping?
What action(s) have you taken to bring about change in your community?
Ready to have your impact recognized? You're just a few clicks away from applying for a $5,000 scholarship. Simply click the button below, Sign Up for a new Account or Log In to an Existing account if you applied in previous years, and you're all set!
Applications may be submitted commencing at Midnight EDT September 6th, 2022 and must be submitted no later than 11:59 PM EDT, November 15th, 2022.  
If you experience technical difficulties or have questions about eligibility, please contact us by emailing impact@thetruth.com.
This scholarship is open to anyone ages 16-25 attending a higher education institution and/or trade school. Click here for full terms and conditions. 
Take a look at the questions below and when you're ready you can start your application.
Section I: PERSONAL INFO/Demographic information
Just before the questions, there will be a paragraph that lays out the criteria and how winners will be selected. 
First Name    
Last  Name   
City    
State  
Zip  Code    
Email  Address    
Phone  (Best number to reach you at any point throughout the day):   
School or University you will attend in fall 2022
Grade/Level in fall of 2022(drop down)
Gender: (drop down)
Race/Ethnicity: (drop down)
Have you been involved in a truth program before? (y/n)

Drop down, including 'other'

How did you learn about the truth Impact scholarship? (drop-down)
Household Income
Although financial need is not mandatory for this scholarship, students experiencing financial hardship are encouraged to apply. The next two questions are optional to respond to, but help us for internal tracking purposes.
Please estimate household income (Optional):
Student Aid Report
If you have ever completed the Federal Application For Student Aid (FAFSA) , please  attach the most recent Student Aid Report  (SAR) with EFC listed (Optional).
We know protecting certain data is important.  We don't need social security numbers or other sensitive information to consider your application.  So don't give it to us.  Please look at the sample form and black out the information we have highlighted before sending your form to us.
Section II: APPLICATION Q's
Tell us about why you're passionate about 1 or all 3 of the truth Impact statements (social justice, mental health, the environment, and their connection to tobacco)?  
Tell us what you have done, are doing, or want to do to make an impact on these belief statements 

Example: If you're super passionate about educating on the ways the tobacco industry has targeted various groups such as the LGBTQ+ community, tell us about it.  

Tell us something that you're passionate about. Explain why it's important to you and what you've done or are doing to share this passion with others. This is your chance to elaborate on what motivates you and how you might connect with our belief statements. This does not have to tie in to the questions above.  
Explain how this scholarship will affect your future or help you overcome any adversity or challenges you've faced or are facing in life. 
Section III: YOUR STORY - VIDEO UPLOAD SECTION
We want to hear your story. Here's where you can keep it real and tell us why you deserve this scholarship. Keep the video under 3 minutes. Upload it to a video hosting site like Vimeo or Youtube and paste the URL into the application. 
We want you to tell a story -- your story. Use the questions below as inspiration, but we don't want you to just answer the questions. Get creative with it and tell your story and show us who you are. 
Here's what you should cover in your video: 
Who you are and where you're from. 
What makes you? Tell us about the interests and hobbies that make you unique. 
Which belief statement (Social Justice, The Environment, Mental Health), or larger issue in society, are you most passionate about and why? 
What will you do, or are you doing, to make an impact on those issues? 
If you have one, tell us about your personal connection to tobacco, smoking, vaping, or the opioid epidemic. This isn't required, but if you have a story, we'd love to hear it.
Describe a situation when you faced an obstacle or adversity in your life and how you overcame it.
Tell us your biggest ambition/goal in life. Where do you see this scholarship, and education, taking you?
Interested in Other Ways to Get Involved With truth?